A little over a year ago, I conducted an online interview with Brian Aspinall.  We've stayed in contact and certainly I follow the stories and articles that he shares every morning.  Recently, he indicated that we should do another interview.  That sounded like a good idea so here goes.
Doug:  Thanks for agreeing to do another interview, Brian.  It will be interesting to catch up with what's happening with you.
Brian: Thank you again for this opportunity. I cannot believe it has been over a year since our last Q & A!
Doug:  So, where are you teaching this year?  What grades?
Brian: I have (finally) secured some seniority and am here to stay at Indian Creek Road PS in Chatham. My current assignment is a grade 8 homeroom with some grades 7 & 8 rotary Science and Phys Ed.
Doug:  I've read that you've been out of class on special projects.  Can you elaborate on that?
Brian: This year I am active on two Board committees. This first of which is a Creating Pathways to Success committee. We are revamping our program to coincide with the new ministry document. More about inquiry and student choice. Our K-6 students are now required to have a portfolio of "all About Me" that will follow them to grades 7 & 8. We are working on what that will look like for our students.
The second project is a TLLP grant we received from OTF. We have been granted some release time to teach other intermediate staff about some of the news, technologies and pedagogies of today's classrooms in order to level the playing field – so to speak – across the feeders schools in our area. This is a cross panel group and we have members from the local high school involved as well. This gives us an opportunity to share and highlight the great things happening in each of our schools and provides us with an opportunity to actually tour each building.
Doug:  During our last interview, we talked about Sketchlot and Clipkwik.  Where do these projects stand?
Brian: Clipkwik is still alive and well. I'm not sure what I am going to do with it now that youtube etc. is pretty well wide open in our classrooms. As you remember, Clipkwik was a solution to a problem – a way to find videos fast from sources other than youtube as it was blocked at the time. I haven't used clipkwik much lately but still own the domain name.
Sketchlot hasn't been on my radar since Scrawlar was developed about a year ago.
Doug:  Most recently, your biggest project is Scrawlar.  Can you give the readers a short description of it if they haven't tried it already?
Brian: Scrawlar is a web whiteboard and word processor for schools. Essentially it is a place to collaborate on writing or math for younger students who do not have an email and want a simple tool. Students can create documents and sketches and then share them with anyone in the class. With tools like Scrawlar, our school alone saved close to $7500 last year just on printing costs! Students do not need to sign up for Scrawlar as the teacher adds them to the class network.
Doug:  Was there a little something extra in your pay cheque?  <grin>  Now, you're entering a space where there are existing online products.  Why would someone consider Scrawlar when they could use Microsoft Office 365 or Google Documents?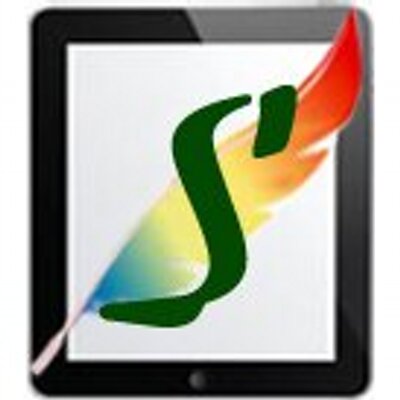 Brian: Privacy! Scrawlar is just me. No data mining. No ads. No bots. Just me and a few lines of php code. Secondly, I have had many conversations with teachers trying out Google Classroom with young grades and they find it difficult. Many are making the switch back to Scrawlar. Lastly, Scrawlar is web based so it is always up to date. Teachers won't have to bug site admins for app updates. It is HTML5 and works on all tablets, phones and PCs – for those BYOD classrooms.
Doug:  Is there room for a classroom to use both?
Brian: App smash away! You can now upload pics from the camera roll to sketch on in the whiteboard section.
Doug:  How many classrooms are currently using your online projects?  
Brian: As of this writing there are about 5500 users.
Doug:  In your mind, you must have a target figure that you'd like to reach.  Could you share that?  
Brian: I'd love to see it reach the numbers twiducate hit a few years ago. Last time I checked twiducate was about 160,000 users.
Doug:  Who pays for the bandwidth and storage space for these projects?
Brian: My wife! Ha, jk. I do. As it grows so do my bandwidth fees. I believe I currently have four godaddy accounts. Maybe I should re-think this now that you brought it to my attention!
Doug:  I had asked earlier if you would open source your projects and you indicated that you didn't think you would.  One of the things that I think would be useful would be for a classroom teacher to customize their students instances of the projects.  Would you consider adding room for a school or classroom logo so that the teacher could really make it their own?
Brian: I've never considered this but I LOVE the idea. Like a Google Site or D2L teachers could make their network a little more custom with school logos and colours. Something to consider, thanks for the idea.
Doug:  I'm guessing that you've got a few projects on the go.  Can you share with us some of what you're working on?
Brian: Nkwiry is my #1 focus right now. Again built as a solution to a problem. Over the last six months I have heard teachers saying "I want to flip my classroom but videos get buried in timelines on websites or social media we use". Class websites are great but it seems there is difficulty in sharing many videos, filtered by subject area, on these sites.
Nkwiry is a place to share videos with and alongside students, based on subject area. teachers and students alike can post math videos under a math tile, science videos under a science tile, etc. I see nkwiry as the perfect flipped / blended learning tool for teachers who want to stop using textbooks and have their students research authentic class concepts. The videos shared under each tile and be posted back to a class website using a public link. www.nkwiry.com
Outside of the technology front I am an active planner on the EdCampSWO team. This year we are piggy-backing #BIT14 by offering George Couros as a keynote to those local here in south western Ontario who cannot make it to Niagara. EdCampSwo is November 8, 2014 at Tecumseh Vista school in Windsor. People may register at www.edcampswo.com. Based on numbers so far, I think we may hit 400 participants this year!
Doug:  Over the past year, I've noticed that you've become more vocal online about getting students to code.  If a person was a fly on Mr. Aspinall's classroom wall, what would they see on a typical day with respect to programming?
Brian: Noise. Bean bag chairs. An Arcade machine. I have students coding choose your own adventure graphic novels. I have students coding math applications to make rote tasks more engaging. I have students coding games in Unity to be played on the arcade. I also have students teaching themselves javascript from code academy.
Doug:  We'll undoubtedly get a chance to catch up at the Bring IT, Together Conference in Niagara Falls in a couple of weeks.  Can you share with us a bit about your presentation?
Brian: Based on my summary for #BIT14 I need about 6 hours to cover everything! I want to discuss Google Classroom, augmented reality and coding but 50 mins will be a challenge. I am toying with the idea of taking a vote as I love choose your own PD. I think I will cover the big ideas from two of the topics and go into greater deal on the third topic the group has voted on.
Doug:  Thanks so much for being available to be interviewed again, Brian.  All the best to you.  I'll look forward to catching up again.
Brian: Thanks Doug, see you in a few weeks!
You can follow Brian on Twitter at @mraspinall
You can also follow his apps!  @scrawlar, @nkwiry, @clipkwik, @sketchlot
His home on the web is here:  http://brianaspinall.com/