Yesterday morning, Aviva Dunsiger asked about this post in light of the fact that I'd been blogging about searching all week.
I just wondered if the Edublogs you selected would even follow the more general theme of "finding answers." Enjoyed your posts!
I hadn't thought or planned it.  I just know that Ontario Edubloggers have the answers!  And they share them via their blogs. 
Here are some that I read recently.
---
Almost there! Bring IT Together 2015
The 2015 Bring IT, Together conference is just a couple of weeks away.  It should be an interesting environment with the current state of things in Ontario Education.
Regardless, some of Ontario's best will be there to share their thoughts and insights.  One person that is definitely a "don't miss" is Heidi Siwak.  She gives us a sneak preview of her plans in this post.
---
Time for a Computer Science (Not Just Coding) Focus
Enzo Ciardelli put together an interesting post.  He talks about all of the things except coding that go into Computer Science strategies.  So much can be accomplished in disciplines other than Computer Science.
But to do all this and not actually doing the coding is like taking the elevator to the second last stop, not going to the top, and calling it a trip.  Or endorsing a political party and not the leader.
There are a couple of reasons why I think that the whole package is needed.  We've all read the articles predicting a shortage of programmers in the future and that may be inspiration at some level, but consider this:
now, and into the future, we're going to be device owners of some sort.  Individually, we're not going to program the next big office suite but we sure will need to be able to take control of our own devices for our own purposes.  The complete package allows us to take control of things.  Imagine owning your own phone and only using what it came with straight out of the box.  That's not my vision of the future.  I'm a big fan of Douglas Rushkoff's Program or Be Programmed messages
I still remember the message that we received in Computer Science classes in university.  So many of you will get jobs in the Computer Science field and over half of you won't be programmers.  That doesn't preclude you from understanding how programming works.  You can't understand unless you have an awareness.  I never thought that a mixture of watermelon, feta cheese, and sunflower seeds would be tasty until I tried it.  How will the next generation of students understand if they haven't been exposed?
There's a great deal of hype about the Hour of Code and it's a worthy endeavour but it needs to go beyond the actual coding to get the maximum benefit.  Enzo provides a great list.
It's a good topic to chat about.  Could you imagine a study of mathematics but let's just gloss over the negative numbers part.  We really don't need the full package.  Hah!
---
Ten Years Later, What Makes You Cringe?
Kristi Keeri Bishop asks a few questions about change and the big question might be "Why aren't we changing?"  I'm not sure that's entirely fair.  I think with initiatives coming from all over the place that everyone is changing and it's a discredit to the profession to think that there are people that aren't.  Maybe a better way to phrase it is "Why aren't we changing quicker?"
What if, instead of a chuckle, we worry about being faced with malpractice claims?
Teaching is an ever evolving profession and that presents challenges, both professionally and in personal well-being.  It's not for the faint of heart.  It might even be that people don't realize how much they've changed their practice.  Perhaps a worthwhile professional learning activity would be to pick a topic and identify how it was taught five years ago compared to today.  That might be the inspiration to make folks realize that they are indeed changing.
Since Kristi is in a leadership position as a vice-principal, she could take the lead and demonstrate to staff her changes in that leadership position from her first appointment to her current position.  There's nothing more empowering than a leader who leads by example.
I think those that are on the cutting edge of leading the change must just shudder when the next "five year plan" comes down from the Ministry or the Board Office!
---
Taking the Learning Outside the Classroom
Field trips can head interesting places.  How about going to the local dump?
That's what Peter Cameron's kids did and it reads like a great adventure!
Check out this post to see the results from the field trip, as told by his students.  I know that, if I was on that field trip, I'd ask "Why is there a fence around here?  Does it try to escape?"
---
As progressive as Kyle Pearce claims to be, he obviously hasn't made his school paperless!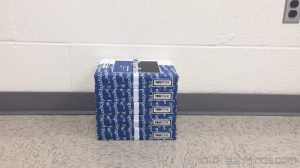 So, in this mathematics task, the challenge is determine how many packages of paper it will take to reach the ceiling.
He's tied the activity to curriculum so that anyone wanting the challenge can see where it fits.  Proportion?  Estimation?  I see the blocks on the wall behind that stack of paper and know how I'd start to attack this problem.
There are many different ways to take a shot at this but it looks like a fun approach and you know that all of the students will have their own take on it.  Kyle's blog is a constant source of innovative ideas like this and well worth bookmarking.
---
Earlier this week, I had shared my thoughts about small schools and what they bring to the community and to students.  As a former student in a small community, the closing of Harrow District High School had a special place for me.  It was even more relevant for Brian Aspinall as he was a student at that school.
Read his blog to get his thoughts, ideas, and recommendations for the students as they face going to school for the balance of the year knowing that soon, they'll be bused to another building.
---
Smashing Breaking News Generator Tool with Capzles, an Online Timeline
I'll bet that developers are so impressed when people use their applications in new and innovative ways.  Anna Bartosik meshes a number of great standalone applications to make a very rich activity for her students.
She melds:
Breaking News Generator
Picography
Padlet
Capzles
to create the learning experience.  In the blog, she claims to have found some in the morning and then used them for this activity in the afternoon.  In her teaching situation, they all fit together nicely.
Her observations:
I'm not going to tell you what the exact activity is here.  You'll have to click through to her post to enjoy it!
---
What another collection of incredible points of view and, yes Aviva, answers!
Please click through and enjoy the original posts.  All of the Ontario Edubloggers can be found in this Livebinder.