It's always refreshing to think about a conference once it's passed.  I have a to-do list of things to follow up with in the upcoming weeks.  I love stuff like that.
Fortunately, most Twitter users have been using the hashtag #bit15 so that the list of potential learning grows based upon the experiences of those who attended sessions that I couldn't attend.
As I sit here, my friend Colleen Rose is reminding me how little artistic ability I have as she warms up for Sylvia Duckworth's Sketchnote session that we're going to attend.  I'm so worried that I'm going to be left back at the end of the session!  As it turns out, first session was full so I didn't get the whole experience.
Many takeaways include tech things to discover for sure.  More importantly, I have social takeaways.  I had a chance to meet or catchup with people face to face, including a former student.  We sat together at the magic show and thoroughly enjoyed it.
I also had a great opportunity to meet Jennifer Casa-Todd in person.  She owed me a coffee and I took her up on it.  It was probably the quickest hour of the two days that I was here.  In my mind, she's exactly the sort of leader that a school district should have in a position of responsibility.  She has a vision, insight and just exudes the passion for her beliefs.  Her district is so lucky to have her on staff.
As long as I've known Cal Armstrong, I've never seen him present.  I really enjoyed his session on OneNote.  It's amazing how a tool really shines when demonstrated by someone who knows it inside and out.  I'd never heard of Delve before – if you're an Office 365 school, you really need to make it available.  Apparently, it isn't by default.  I like the concept of the class notebooks but I don't have an educational account so can't really experiment.
Brenda Sherry and Karen Buetler gave an important session about Digital Citizenship from the OSAPAC perspective.  The resources seem to be very complete and all districts would be well advised to take these in.  It makes you wonder why any individual district would want to write their own.  These are ready to go or you could remix them if there's something missing.
I chose sessions wisely.  Nobody, in the sessions that I attended, tried to sell their ideas with that tech theory that so many people have embraced without really thinking it through.  For that, I'm so thankful.
I was tired, at one point, so didn't walk out in the middle of a session.  I normally would – it was a vendor session where the presenter bad mouthed a competitor product.  That's never a good idea.  Oh, and another good idea for presenters … turn off Twitter notifications while you're presenting!  Digging through the distraction though, it was mildly interesting.  There should be guidelines!
I did get into Sylvia Duckworth's second Sketchnote session and, while my culminating activity looks like a dog's breakfast, I now get so much more.  I'm starting to think that I could actually do one of these things.  Stay tuned.  Of course, Colleen shone here as well.  The big winner?  I got a new image for my Twitter profile thanks to her skills.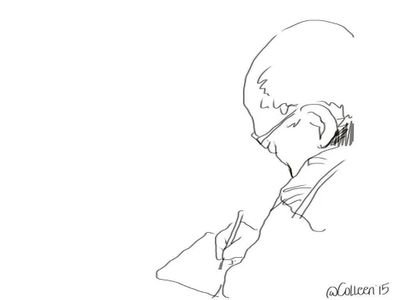 Heidi Siwak was dynamite as the closing keynote talking about her work with students and integrative thinking.  This presentation could be canned and made required understanding for all educators.  I hope that this launches something good for her.  ISTE needs to consider her as a speaker; her message needs to be spread wide and far.  We all are wondering just what is contained in the other 40 slides in her presentation.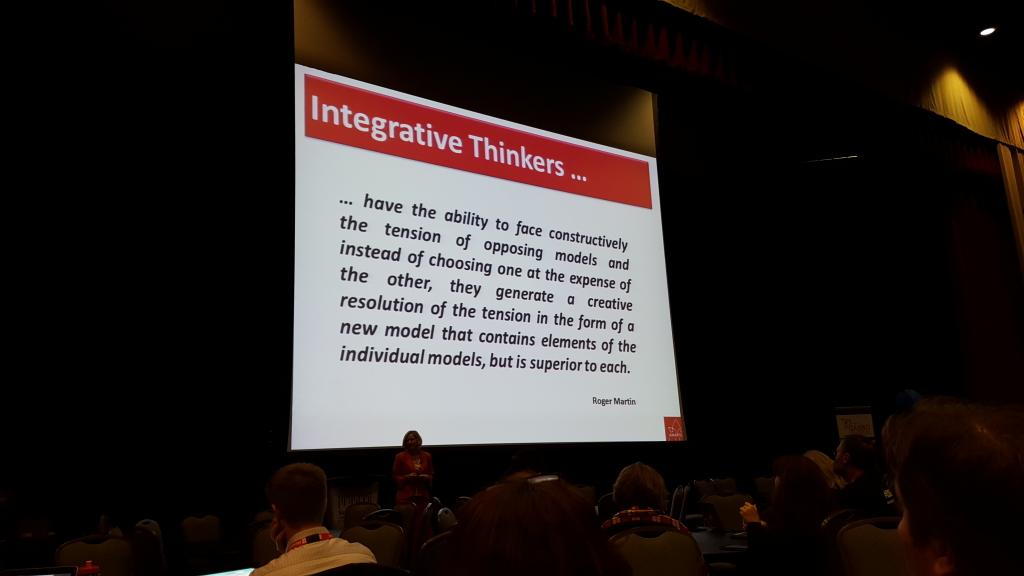 I couldn't help but think that this should be on a banner over the entrance to her classroom.  I loved the way that she described her classroom and the dynamic of learning and working together on Wicked Problems.
"Together, we're smarter than Google"
The low?
Yes, there was a low.  Normally, takeaways from a conference range from great to really great!  I learn so much.
However, in this case, a presenter elected to use this blog and how it's managed as a bad example in a session.  I remember a quote from my first vice-principal "nobody's completely useless; they can always be used as a bad example".  So, I guess the rainbow here is that I'm not completely useless.  In addition to what transpired in the session, this individual elected to take it online via Twitter; I guess to make sure that I (and the rest of the world) got it.  So, if the intent was to be hurtful, it succeeded.
It was a strange year with the job actions throughout the province.  Kudos to those school districts who supported the continual professional learning of their teachers.  Overall, there were a few empty seats and that's sad.  Hopefully, for the organization going forward, it's just a little blip in the big scheme of things.
Having co-chaired this conference for the past couple of years, I know at a personal level how much effort, time, and organization it takes to be successful.  It was considerably more relaxing to enjoy the event as a participant and I was happy to help with the promotion of the things I saw.
My congratulations to the organizing committee.